Home
Books
Vila's Cottage Crafts
Radio Interview
Print Interviews
Feline Buddies
Other Pictures
Plant Friends
Rituals
Spells
Altars
Correspondences
Links
Dilly Lemony asparagus from Dinner Is Served is a real treat with it's bright, cheery flavor! Try it on a rainy day! I bet it brings a smile to your face!

Two of the health tips associated with this recipe:

Researchers in the 1920s found that vitamin E was essential to the ability of pregnant animals to carry to term and necessary for reproduction in general. The other name for vitamin E, tocopherol, thus comes from the Greek work tokos, meaning "birth", and pheros, meaning "to carry". Vitamin E improves circulation, helps repair damaged tissues, promotes normal blood clotting and healing, reduces scarring, helps prevent cataracts, and may prevent age spots. Eat to Heal by Lisa Turner, pp 36-37
Good sources of vitamin E include wheat germ, safflower oil, nuts, seeds, whole wheat, sesame oil, olive oil, cabbage, soy lecithin, spinach, asparagus, broccoli, parsley, oats, barley, and corn.
Eat to Heal by Lisa Turner, p 33
ASIN: B00BBJC9RQ

Loaded with easy and delicious recipes, this book will please even dedicated meat eaters! And you don't need a bunch of exotic ingredients to make these dishes! This book will make even a novice in the kitchen look like a pro!
NOW JUST 2.99! No shipping! No delay!

click here for this book at the Kindle store
Click here for this book at the Nook Store
Click here for epub, pdf, rtf, lrf, pdb, or txt
Don't have a Kindle device? Click here for a FREE Kindle for PC program from amazon.com
Have a tablet get the Kindle app here
Don't have a Nook device? Click here for a FREE Nook for PC program from Barnes and Noble



Below is a slide show featuring some of the recipes from this book.
OHHHHHHH! Pesto pasta salad! How refreshing is this! You could make a meal of this one! This is one even the pickiest eaters will love! Find the recipe in Dinner Is Served.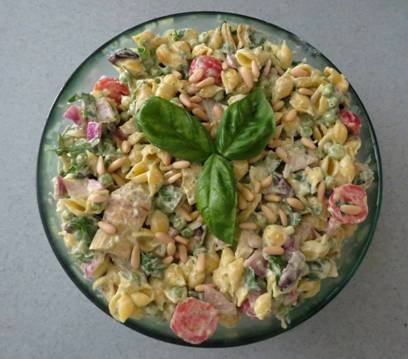 Reviews


Jane Firebaugh writes on Amazon

This is a wonderful cookbook, filled with fabulous gourmet vegan recipes, and great health information about each recipe. Written in a lovely, easy-to-read style that will make your cooking experiences a joy. Great for anyone who likes to cook healthy food, not only for vegans.


---


Of Dinner Is Served, Julianna Joyce Feher writes on facebook: just fixed the Roasted Unsausage and Veggies.... big time YUM!


---


Moonwillow writes on Amazon:
5.0 out of 5 stars Dinner is Served! March 22, 2014
By moonwillow
Just as her other books, this one is awesome and leaves one drooling. The recipes are amazing, the health tips so beneficial, and the recipes easy to prepare. Do yourself a favor and purchase all or any of her books if you want to learn how to eat better and healthier.....if you want some magick in your life try her Forest Song series, i cannot say enough about this author she just leaves you wanting more!


---


I love, love, love Dinner is Served! I got it for myself last month and have been cooking from it ever since. My family's happy, and so am I! The food's delicious, and I know they're eating right. Now I'm going to give it this Christmas to all my friends! This book is too good not to share!



— Emily Paul




---


I love Dinner is Served! The recipes are so easy to follow and so delicious! And I love the health information Vila gives with each recipe! I actually feel like a good cook now. And I feel so virtuous about what I'm eating! This is great!



— Subway_Girl




---


These dishes are super! We love them! Thanks for sharing your magical kitchen for us to make great meal too!



— Dawn Richardson




---


Dinner is Served is a wonderful cookbook appropriate for both the budding vegetarian and the vegan connoisseur. I've made several recipes in this book so far, and each was a big hit. Each was gone in a flash! If you're looking for a vegan cookbook full of healthy, delicious, and easy-to-make recipes, this is the one for you! I can't recommend it highly enough!



— Pam Strizek




---
---
Search for other products at Amazon.com