Home
Books
Vila's Cottage Crafts
Radio Interview
Print Interviews
Feline Buddies
Other Pictures
Plant Friends
Rituals
Spells
Altars
Correspondences
Links
---
---
---
---
---
Creeping Veronica in bloom
---
---
So many blossoming trees...
---
---
---
---
---
---
---
---
---
---
---
---
A bunch of flowering trees
---
OH YEAH! My beloved daffodils!
---
---
---
---
---
The ubiquitous daffodils!
---
---
---
Our Yule tree. I made all the ornament.
---
And here are some pictures of our house and yard after an ice storm. Isn't winter beautiful?
---

The roses and clematis growing on the pergola
---
Another shot of the pergola with roses
---
---
Irises along the front walk with peonies in the middle
---
The rest of my desk (with a little added bonus)
---
The book shelves in my new office. The white squares are Velcro. The Velcro is holding up the Plexiglas. We have to put Plexiglas on all upright surfaces because Puck and Cadeau spray.
---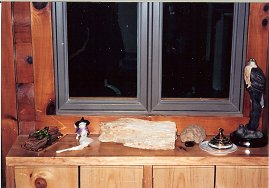 My altar in my new office. There's more on it now. Some lovely people have given me some wonderful things since I took this photo. I'll take updated photos from time to time. My office used to be part of the porch, and so there's still a window between the laundry room and my office. I like that, actually. So I don't want it removed. You can see by the logs that it used to be an outside wall. I like that too. In fact I love everything about my new office (can you tell?)
Starting at air, there's a hawk I bought. I just love her! And of course the censer is at fire. At water there's a paper rose that a dear friend made for me. And at earth spilling over into water there's a bundle of cinnamon sticks. The witch cat was a Yule gift from someone else, and the huge piece in the middle is a chunk of petrified wood that Helen, my sister of the soul, gave to me. The smoky quartz and quartz geode were gifts from Smoky, a very dear woman I met online.
---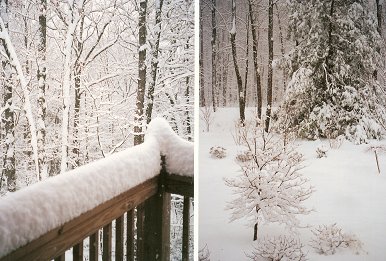 Our back yard all dressed up in her winter finery.
---
---
And other photos
Here are some shots of Helen and me at a book signing in Jim Thorpe PA. It was in October at the Halloween Opera, which is not held on Halloween and is not an opera but a craft show. It was held just outside of a wonderful store called the Emporium of Curious Goods owned and operated by Barrett Ravenhurst, a dear man whom I feel privileged to have met. Here we are together early on in the day.
Barrett Ravenhurst, Ph.D., Owner of Emporium of Curious Goods, 15 Broadway, Jim Thorpe PA
Helen, my sister of the soul, and I all done up in full Crone regalia for the occasion. We had SUCH a good time that day!
Chatting with a customer.
---