Home
Books
Vila's Cottage Crafts
Radio Interview
Print Interviews
Feline Buddies
Other Pictures
Plant Friends
Rituals
Spells
Altars
Correspondences
Links
Cheesy tomato bread from Your Bread Basket! Oh, how wonderful this is with a nice tomato soup or with lasagna! You really need to try this one! It is SOOO GOOD!

One of the health tips associated with this recipe:

Many of the health benefits of tomatoes have been attributed to a phytochemical called lycopene, a member of the carotenoid family. Lycopene is relatively rare in foods, and tomatoes are one of only a few foods rich in this potent antioxidant. Lycopene is thought to help maintain mental and physical functioning as we age and to reduce the risk of pancreatic and cervical cancer. In one study by Dr. David Snowden at the University of Kentucky, older women with the lowest blood concentrations of lycopene scored lowest on mental and physical functioning tests. Other compounds in tomatoes--p-coumaric acid and chlorogenic acid--help to inhibit the formation of nitrosamines. And tomatoes also contain ample amounts of glutathione, a powerful antioxidant that may ward off cancer, help maintain immune function, and help prevent macular degeneration. Meals That Heal by Lisa Turner, pp 40-41


ASIN B016SB74ZI

Your Bread Basket--150 recipes to fill your home with that yummy bread-baking aroma! And some are even gluten free!
NOW JUST 2.99! No shipping! No delay!

Click here for this book at the Kindle store
Click here for this book at the Nook Store
Don't have a Kindle device? Click here for a FREE Kindle for PC program from amazon.com
Have a tablet get the Kindle app here
Don't have a Nook device? Click here for a FREE Nook for PC program from Barnes and Noble

Below is a slide show featuring some of the recipes from this book.
Quick breads add so much to a meal without taking much time to make. Try any of these from Your Bread Basket with a nice springtime soup or with a stew! Each is delicious! I bet you'd love them all!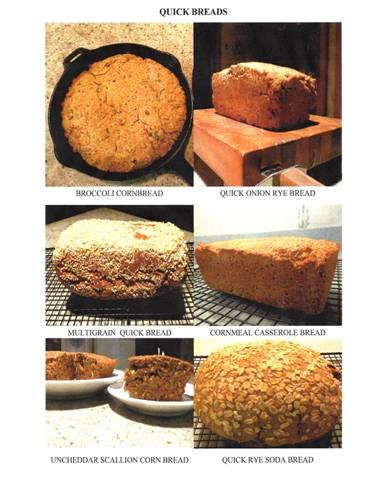 Reviews


Of Your Bread Basket, Moonwillow writes on Amazon:
Who doesn't love bread?? This book is a cornucopia of heavenly breads, rolls, biscuits, bagels, scones, muffins, and even pretzels! Where would you ever find a book with everything "bread" in it like this? Order it for all your holidays or just for an everyday, awesome compliment to your meals. I can promise you will be even more in love with bread after this book. They are healthy, wholesome recipes, and just to let you know she has another cookbook called Super Soups, how yummy they are to dip those breads in. You'll never leave the table hungry!


---


Of Your Bread Basket, Donna writes on Facebook:
I never dreamed I could actually make bread for myself, but Vila makes it so easy in Your Bread Basket! I've already made the rosemary chive biscuits, the fig muffins, and, the pear almond scones. Next I'm going to try the pumpkin cranberry bread! One day, I may even work up the courage to make one of the many yeast breads in this book and maybe even the pretzels! Who knew I could be such an expert in the kitchen! Thank you, Vila!


---


Your Bread Basket is exactly what a bread book ought to be! With many options, including pretzels, bagels, scones, and, yes, yeast breads, the author has something for everyone, even those who aren't whiz kids in the kitchen. There's even a gluten-free section! SpiderHawk thought of everything!
As for the breads, you can't do better! So far I have made the garlic breadsticks, the blueberry orange muffins, and the sweet potato biscuits, and did they ever disappear in a hurry! I can't wait to try the rest of the recipes, though that will take some time. There are so many choices in this book! You really get your money's worth and much, much more in Your Bread Basket! I can't recommend it highly enough!



— Susan Beth Wallace writes on Amazon:




---