Home
Books
Vila's Cottage Crafts
Radio Interview
Print Interviews
Feline Buddies
Other Pictures
Plant Friends
Rituals
Spells
Altars
Correspondences
Links
MMMMMMMMMMMMMM! Black bean nachos! Delicious, fast, and easy for a summer meal! Find the recipe in Luscious! I know you'll love this as much as we do!
ASIN: B06XSMNN5Z

Luscious!--a book that lives up to its name with delicious dishes to please your palate while keeping you healthy and happy!
NOW JUST 2.99! No shipping! No delay!

Click here for this book at the Kindle store
Don't have a Kindle device? Click here for a FREE Kindle for PC program from amazon.com
Have a tablet get the Kindle app here

Below is a slide show featuring some of the recipes from this book.
This romaine and radicchio salad from Luscious! really hits the spot on a hot summer day! It throws together in no time, is fresh, light, and just easy when the temperature soars. And yet, it's packed with flavor! What a delight!

One of the health tips associated with this recipe:

Children living on the Greek island of Crete rarely experience allergic reactions such as asthma, so researchers looked at 690 kids ages 7 to 18. A survey revealed that 80 percent of the children ate fresh fruit and 68 percent ate fresh vegetables at least twice a day. Further study showed a close relationship between the amount of fresh, locally grown grapes, oranges, apples, nuts, and tomatoes the children ate and how free they were of symptoms of asthma and nasal allergies.

The Green Pharmacy Guide to Healing Foods by James A. Duke, Ph.D., p 52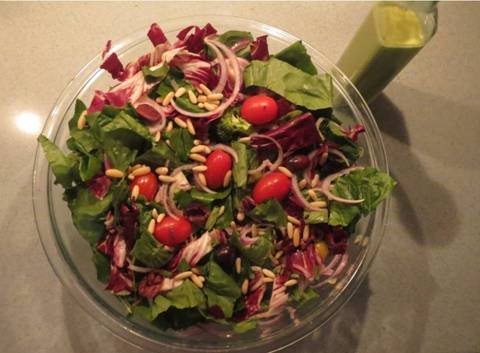 Reviews


Editorial review

This book certainly lives up to its name. I have tried many recipes in it, including the pesto lasagna, the butter bean cherry muffins, the rhubarb fruit soup, the carob mint parfaits, and the peachy unsausage. Each has been to die for, or should I say to live for. But the taste of this food is only the beginning. SpiderHawk takes the time to explain the health benefits of every dish in this volume so that I know I can feel good about serving this food to my family. I love that there are very few ingredients in here that I'm not familiar with. And I am grateful for the glossary to tell me what those few are and where to get them. And, while it's not particularly important to me, I'm glad that there are so many gluten-free dishes included here so that those with problems associated with celiac or gluten sensitivity can still enjoy this book. I am not a vegetarian, but to be honest, I didn't miss meat in any of these dishes. And, after reading the health information in here and after eating this wonderful food, I find I could very easily cut meat out of my diet or at least eat much less of it. I love this book and highly recommend it. I wish all cookbooks were this good!

Kelly McKinley


---