Home
Books
Vila's Cottage Crafts
Radio Interview
Print Interviews
Feline Buddies
Other Pictures
Plant Friends
Rituals
Spells
Altars
Correspondences
Links
Take advantage of the wonderful apples and pears that are still in season with this pear, apple, and pecan salad from Happy Body Cookbook! It's a super accompaniment to any main dish. And, in truth, it's hearty enough to have as a meal. With fruit and parsley and other good stuff, not to mention the wonderful dressing, this salad's a real winner! Perfect!
ASIN: B00K3TZN00

Happy Body Cookbook--Yummy dishes to help you get and/or stay well. And a healthy body is a happy body!

NOW JUST 2.99! No shipping! No delay!

Click here for this book at the Kindle store
Click here for this book at the Nook Store
Don't have a Kindle device? Click here for a FREE Kindle for PC program from amazon.com
Have a tablet get the Kindle app here
Don't have a Nook device? Click here for a FREE Nook for PC program from Barnes and Noble



Below is a slide show featuring some of the recipes from this book.
Love pasta? Me too! And this linguine with mushroom, tomato, and sour uncream sauce from Happy Body Cookbook will make your taste buds sing for joy! And if you make it with quinoa linguine, it's a gluten-free dish you can enjoy, even if you're gluten sensitive!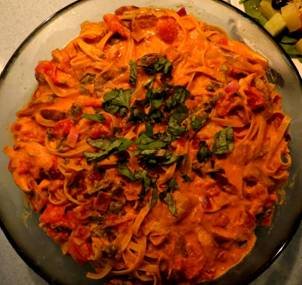 Reviews


This is probably one of the most important cook-book you have written. I guess people tend to think of cookbooks as reference material only, but your books actually do a lot of teaching about the ingredients. It makes it easier to start eating healthier, one dish at a time.



— C Lynecia Berry Wright-Harris




---


Bonnie Sanders writes on facebook:
You have to get this cookbook...great food comes from the receipts in it...love love love them...
Thanks, Bonnie!



—




---


On Amazon, Wendy beare writes of Happy Body Cookvbook:
wonderful book....highly recommended. March 8, 2015
Vila writes beautiful books....the recipes are clear and easy to read. The dishes are so delicious and healthy. I am just beginning the vegetarian journey, but with Vila by my side, I have no doubt that I will be able to make conversion easily. This book is just one of many I have, and I would recommend each one of them. The food is vegetarian, but the recipes, I believe, would be enjoyed by meat eaters just as much.


---


Gott Ado (on facebook)
Omg I never gotten so many compliments on something I cooked! I made the lentil salad out of Happy Body Cookbook! Everyone Loved it.



—




---


Julianna Joyce Feher posted on Facebook: Vila, I just made the Braised Cabbage recipe from your Happy Body Cookbook. It is yummy!!! That apple and apple juice gave it just the perfect touch. I know I said I was going to Hungarian-ize it.... but after tasting it...it was already perfect without anything else added! Thank you. Can't wait to cook more recipes.


---


Of Happy Body Cookbook, Raven Onyx writes on facebook:· Vila does it again.. IF you haven't got any of her books you are missing out on some great stuff


---


Helen M. Collins wrote on facebook September 11 via Amazon If you want an amazing experience in great recipes AND how foods work to help your body, run, don't walk, to http://www.vilaspiderhawk.com/, scroll down to Happy Body Cookbook, and click!


---


Helen M. Collins writes on facebook :
Vila, after going through Happy Body Cookbook, shopping at Wegman's, EVERYTHING good for me looked brighter! The colors just shouted! And I LOVED knowing that this and that and the other were good for me and I could and indeed SHOULD add them to my food list! THANK you for Happy Body Cookbook!


---


5.0 out of 5 stars I LOVE this cookbook! June 12, 2014
I used to think cookbooks were boring. Well, not this one! I LOVE what Vila SpiderHawk does in creating delicious recipes, AND giving us all that fabulous nutritional information for all the ingredients! But there's something else: now when I go shopping and see the wonderful ingredients she talks about, it really gives me joy, makes me happy!
So not only is my body happy, my soul is happy, thanks to Vila SpiderHawk's Happy Body Cookbook!



— By Helen Collins




---


Vila SpiderHawk, Mistress of our palates and all things that are great to eat for our health, has done it again! With new recipes, and sources for the great health information provided, she pleases our palates and helps us understand just how the ingredients in all of her wonderful recipes help our bodies become ever healthier. With 130+ recipes in Happy Body Cook Book, you can plan a whole month's worth of meals ( and more) and not repeat a meal twice. The Basil Pesto Bread is a hit on Italian night at our house, and I am still finding out just how delicious her dips and sauces can be in on other foods! And the side dishes...oh my! The Roasted Unsausage and Veggies is a good, cozy meal for a chilly day's dinner, and my husband, who is a bit picky, and is usually Mr.-Meat-and-potatoes, loves the Unchicken Cobbler! Add in the Three Bean salad, and he is one happy camper! Personally, the Stuffed Artichokes, the Spinach Manicotti and the Tomato Pie are among my personal favorites from this cookbook. The Very Berry slaw makes a really great lunch meal for a few days for me; I would not ever have thought of combining berries with cabbage until I saw this recipe, and had to try it! It is absolutely awesome! And, oh, the desserts. The Ginger Molasses cake is so moist and light! This is one cake that you can take to a pot luck or family dinner, and have EVERYONE asking for the recipe! And the Orange Pudding is a light and refreshing desert anytime! If you are looking to buy a cookbook with lovely recipes that help you in bringing new dishes to the table that do not rely on animal protein, that are very filling, that boost your immunity naturally, and that taste so GREAT, even the pickiest eaters will like them, then purchase Happy Body Cookbook;. You will not be sorry you did! At $2.99, it is a real bargain!
~Kim Huse


---