Home
Books
Vila's Cottage Crafts
Radio Interview
Print Interviews
Feline Buddies
Other Pictures
Plant Friends
Rituals
Spells
Altars
Correspondences
Links
This is the season for salads, and you'll find many truly yummy ones in Gaia's Table. This is just a small sample.
ASIN: B00FL2U0TS

These vegetarian dishes are so scrumptious, nobody has to know that they're super-duper good for you too!
NOW JUST 2.99! No shipping! No delay!

Click here for this book at the Kindle store
Click here for this book at the Nook Store
Don't have a Kindle device? Click here for a FREE Kindle for PC program from amazon.com
Have a tablet get the Kindle app here
Don't have a Nook device? Click here for a FREE Nook for PC program from Barnes and Noble

Below is a slide show featuring some of the recipes from this book.
These dishes are so scrumptious, nobody has to know that they're super-duper good for you too!
Perk up any meal with these simple, quick, and delicious side dishes! I promise, you'll love them! And there are more where these came from. Pick up Gaia's Table and find out!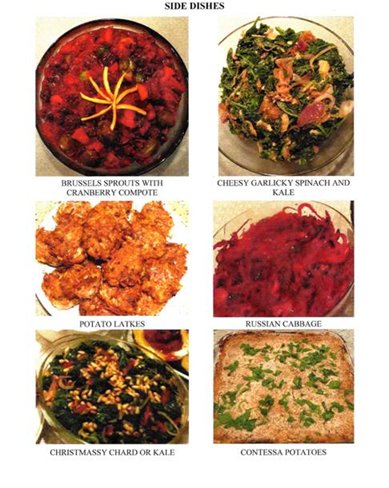 Reviews


Of Gaia's Table, Kay writes on You Tube:
I have this book on my Kindle! Awesome recipes!



— Kay Howey Hickman




---


About Gaia's Table, Wendy writes on Amazon:
highly recommended to vegetarians and carnivores alike. March 8, 2015
Another fantastic book from Vila Spiderhawk. I love all her books and this one is no exception. Her recipes are written in a clear way, they are easy to follow and are so delicious. I have every one of Vila's books and highly recommend them


---


Of Gaia's Table, Raven writes on facebook: Raven Onyx via Vila SpiderHawk
I use this wonderful cookbook all the time.. This another winner from Vila.. GET IT NOW an get cooking
She also wrote a review on Amaxon: 5.0 out of 5 stars Just Fantastic September 21, 2014


---


By Ravenonyx13
Vila has done it again. A inspiring an informative work that gets the creative juices flowing. This is a great cookbook for beginner or seasoned chef.


---


Deb Shaw writes on facebook, "I love this book, and I love the cover, too."


---


Helen writes on Amazon:
5.0 out of 5 stars Three Point Power Punch! March 22, 2014
By Helen Collins
Honestly, the first thing that struck me about Gaia's Table was how well it is organized. This feature allows me to quickly go to the section I want, then click on the recipe, and there it is!
While the organization of the book and ease of use are wonderful, the recipes are simply delicious! Combine that with the health benefits (and health information included with each recipe), you get a three point power punch!
I love the Acorn Squash with Cranberry Compote, Spinach Mushroom Cups, Vegetable Quiche...the list goes on and on.
This gem of a cookbook belongs in every Kindle! It's the perfect way to add a dish or two of healthy vegan food, or expand an experienced vegan repertoire!
For $2.99, it's the deal of the century!
I give this one five stars!



---


My God, Vila, I didn't think you could do any better than your other cookbooks, but this one is the best! I can't get over the dishes in this thing! Even my kids love this food, and they're picky eaters! THANK YOU! I can't wait to make some more recipes from it!



— Darcy Baines




---


OMGoodness! I immediately made the coffee cake! I am now wallowing in yumminess! Thank you for the great recipes and the fantastic information about each one. So helpful for those of us that are ill and need the extra help with our diets. Once again a hit, keep up the good work Vila!



— Peggy Hicks




---


Gaia's Table is absolutely awesome! Right away I love not only the ingredients but the information Vila SpiderHawk gives about the health benefits of several ingredients in her dishes. Vila's recipes are very easy to follow and taste fabulous! My children love this book also. They are very adept at cooking and find Vila's recipes very tasty and fun to create. This is a great book if you are vegetarian and looking to spice up your palate or even if you are a first timer vegetarian looking to live a better and healthier life style.



- Jenifer M. Hurley




---